The Galaxy Yacht was already well known for its style and luxury but it has now undergone a comprehensive refit of the interior accommodation with modifications to the exterior to give a 5 star charter experience. The new owner of GALAXY wanted to build on her successful charter reputation by injecting a bright, fresh, youthful and contemporary spirit into her original high gloss timber interior.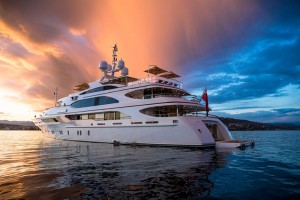 We were so confident about he five star class of this design that we submitted the project to the International Yacht and Aviation Awards. The awards ceremony and dinner was held on Friday 15th May 2015 at Hotel Cipriani, Venice. The voting was very close and we were very happy to come in second against some incredible designs.
You can't fail to notice the backlit translucent stone bar, built as a meeting and greeting area in the heart of the Yacht or the beautiful backlit Black Agate wall supplied by ShellShock Designs, which is used as a feature wall behind the dining table.