Melanie Georgacopoulos, an Artist and Jewellery Designer who operates in the UK & Greece has designed and crafted a very elegant and unique necklace using our Golden Lip Mother of Pearl on a silver backing. As you can see in the images below, the necklace is a piece of true beauty and class.
The piece will be displayed at Cabinet de Curiosites of Thomas Erber.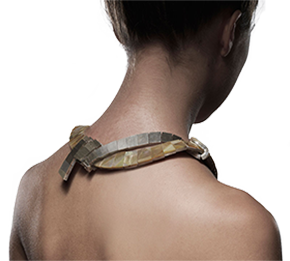 This time around I wanted once again to challenge myself. I have become very interested recently in Mother of Pearl as a material which has been neglected by the jewellery industry to a large extent and only used in very specific designs/formats. It is also considered quite old fashioned and never really showcased as the star of a piece. I think for many Mother of Pearl is just the leftover from the process of making a pearl therefore seen as a byproduct.

We had been in touch with ShellShock Designs and found the CEO, Jonathan Kern very professional and willing to help us I asked him to do a sample with shell backed with silver (silver being a metal more recognised and accepted in the fine jewellery industry than aluminium or plastic) and I then designed a necklace with the successful pieces that your company produced. I was very impressed and surprised at how elegant the material looks when worn and how beautifully it reflects the light so I will definitely be using it again.

The show begins in Paris on the 23rd of November and will be on until the 31st December in 3 different locations: Colette. Les Bains and Palais Royal.

Melanie Georgacopoulos